Tomorrow the USMNT plays a friendly against Russia (insert Rocky joke). I'm excited to see how Coach K intends to include some of the younger players into the fold. Here's what I think might happen based on Klinsmann sticking with the 4-1-3-2 formation.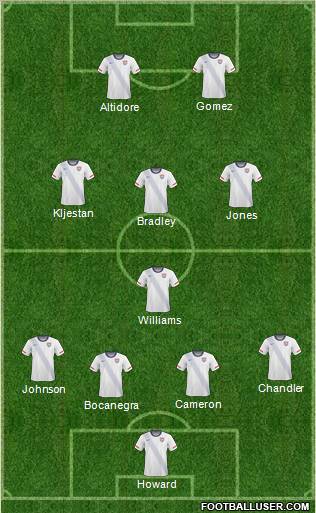 I think the back four is a given considering the options that were brought in. However, I think there's a good chance Edu gets some playing time to see how the CB experiment progresses. Picking a midfield was hard because there aren't many wide options on the team (Gatt & Gyau) and I'm not sure he's ready to start them since they've never played nor practiced with the team. Having both Chandler & Johnson in the fold does give the team some width and service from the fullbacks so having 4 CMs on the pitch isn't going to hurt as much. I expect that the mids will asked to cover when one of the fullbacks goes down the pitch though.
There's a good chance we might see a 4-3-3 formation which would look like this:
The line up isn't dramatically different than the one above however, I did insert Gatt over Kljestan. In this 4-3-3, Gomez's hustle plus Gatt's speed has the potential to really stretch the Russian defense. One concern with this formation is Russia's defensive tactics. The scouting reports on Russia compares them to a familiar foe in Antigua but with more talent. This more aggressive formation will leave the US more vulnerable on a counter attack.
I think the chosen formation will reflect what Klinsmann wants to do. Is this a learning process or is the end result the priority? The formation picked will give fans a good glimpse on what Coach K is thinking. Let us know what you think.