The US Men's National Team kicks off tomorrow at 8pm MT against Costa Rica in Colorado. Here's the line up I'd like to see in the starting XI.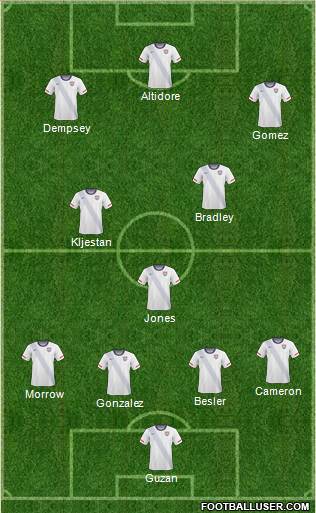 Keeper is an easy selection as Guzan will be the starter unless something happens.
The defenders on the other hand, is a little harder to figure out. However, since I'm not trying to figure out what Coach K would do, here's my rationale: Cameron plays a lot of fullback at Stoke City so he'd be comfortable there. Besler and Gonzalez played in January camp together so (in theory) the should have a better rapport than say either of the with Cameron, Goodson, or Edu. I'd put Morrow in since I placed Cameron on the right but I wouldn't be shocked if Cameron was on the left with Beltran on the right.
Jones and Bradley are going to play but I placed Jones as a CDM playing deep to provide support to provide support to the young CB pairing. Bradley plays more advance since he's more or a play maker than Jones. Kljestan gets the start as someone to help with the distribution ability that Jones and Bradley lack.
Dempsey plays on the left which is he preference, Gomez on the right to help stretch the field, and Altidore in the middle. If Altidore is going to be successful, he needs someone like Kljestan to get him the ball since his wingers will not.
Let us know what you think.
Tags: American Pitch Concacaf Football Futbol Klinsmann Soccer U.s. Soccer Us Soccer USA USMNT World Cup