While a lot of us are focused on World Cup Qualifying the United State also has the CONCAFAF Gold Cup to take care of this summer as well. While the qualifiers and the Gold Cup tournament do not overlap, I think its safe to safe that we will see the USMNT "B-Team" focusing on the Gold Cup. I'm going under the impression that there will be no overlap this summer with the A & B teams (assuming there are no injuries or other issues of course).
I'd like to see a mix of veterans that have dropped down the pecking order as well as some younger promising players in this group. Here's who I'd like to see:
Keepers (3)
Sean Johnson (Chicago Fire, MLS) – seems like his favored over Bill Hamid at this moment to it's his position to lose.
Bill Hamid (DC United, MLS) – see the Sean John statement. Could easily jump ahead of Johnson with a strong season in MLS.
Steve Clark (Hoefness, Norway) – I'd like to see one non-MLS keeper since their season will still be going on and Steve's name has been getting blown up in the interwebz due to his performance last season when he was selected for the league's best IX by the local media.
Other considerations: Tally Hall, Dan Kennedy, Nick Rimando (I should mention that I left him off because I want to see a younger squad play. He deserves to be the starter really).
Defenders (8)
Justin Morrow (LB – San Jose Earthquakes, MLS) – one of the "surprise" call ups gets dumped down to here due to the assumed health of the top fullbacks.
Eric Lichaj (RB/LB – Aston Villa, EPL) – His versatility is nice and I'm hoping that Coach K will let him use this as a chance to showcase for other teams as I wonder if Aston Villa will let his contract expire.
Carlos Bocanegra (CB – Racing Santader, Spainsh Segunda) – This team needs veteran leadership and why not let this tournament be a going away party for him?
Oguchi Onyewu (CB – Malaga, Spanish La Liga) - Like Bocanegra, he provides a veteran dynamic with a lot of international experience. Like Carlos, he's not seeing a lot of playing time in Spain but has more to offer.
Michael Orozco Fiscal (CB/RB – Puebla, Liga MX) - His late call up shows that he's still on Coach K's radar.
Alfredo Morales (CB/RB/CDM – Hertha Berlin, German 2.Bundesliga) - A young and up-comer who, like Lichaj, maybe be looking for a new team this summer. Was also a part of January camp. Provides versatility as well.
Michael Parkhurst (LB/CB/RB – Ausburg, German Bundesliga) - Like of a lot of these selections, he can play multiple positions but also brings some veteran experience to this group.
Jonathan Spector (RB/LB/CM – Birmingham City, English Championship) - Also brings versatility and the opportunity to showcase himself to Coach K as rumor has it he was being considered for the WCQ until suffering injuries.
Other considerations: AJ DeLaGarza, Tim Ream, Seb Hines, Zak Loyd, John Anthony Brooks, Greg Garza
Midfielders (10)
Brad Davis (LM – Houston Dynamo, MLS) – He brings a deadly left foot and veteran experiences to the midfield.
Lee Nguyen (LM/AM) – New England Revolution, MLS) – This one might be shocking to some but he's been a solid player for New England and has a lot of experience even though he's mid-20s. Can this once rising star make some magic on the international stage? I'm not sure but I'd like to give him a shot.
Benny Feilhaber (CM/LM – Sporting KC, MLS) - Brings a lot of international experience plus he's the creative type that Coach K wants to play.
Mix Diskerud (CM/AM – Rosenborg, Tippeligaen) - This will be a great opportunity for him to get more experience in a serious competition.
Stuart Holden (CM/RM – Bolton Wanderers, English Championship) - I think his injuries probably don't make him ideal on the wings but I'd like to see him in the no. 6 hole with two attacking mids ahead of him if the shape is a 4-3-3. The big question will be whether he's fit enough to be available for this tournament.
Conor O'Brien (CM/AM – F.C. Nordsjælland, Danish Superliga) – I'd like to see him called in and see what the deal is with him. Like GK Clark, he's been getting a lot of buzz on the interwebz.
Kyle Beckerman (CM – Real Salt Lake, MLS) - Coach K loves this guy and I think he would be one of the leaders of this squad.
Alejandro Bedoya (CM/RM – Helsingborgs IF, Allsvenskan) – Now that he moved back to Sewden, Alejandro is playing more games for his club and quite well. He'd also be one of the veterans on this team.
Josh Gatt (RB/RM – Molde FK, Tippeligaen) – He's got the physical tools to be something special and I think he needs competition like this to help him grow.
Joe Gyau (RM – 1899 Hoffenhiem, German Bundesliga) - Like Diskerud, I'd like to see him get called in to gain more experience.
Other considerations: Nick Deleon, Luis Gil, Ricardo Clark, Brad Evans, Joe Corona
Forwards (4)
Juan Agudelo (FW – Chivas USA, MLS) – He's off to a strong start and has always been one to step up on the international stage.
Terrence Boyd (FW – Rapid Wien, Austrian Bundesliga) - I'm going to assume Donovan replaces him on the A squad if he can prove himself over the next couple of months. Besides, he's more likely going to see more playing time with the squad at this point.
Chris Wondolowski (FW – San Jose Earthquakes, MLS) – As long as he keeps scoring goals in the MLS, he deserves to be considered for this squad.
Chris Pontus (FW – DC United, MLS) – He deserves a chance based on his club play. I'd like to see him get a call.

Other considerations: Alan Gordon, Will Bruin, CJ Sapong,

Here's the formation I'd go with: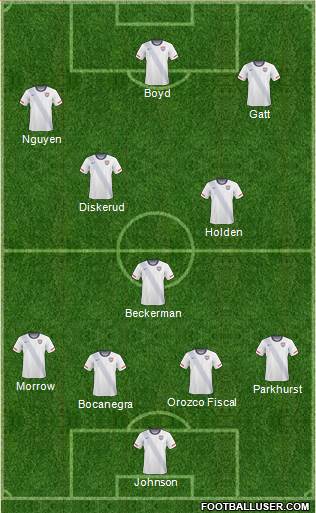 Tags: American Pitch Concacaf Football Klinsmann Soccer U.s. Soccer Us Soccer USA USMNT