Who owns 'El Tri' anyway? Meanwhile, U-23's and U-17's are busy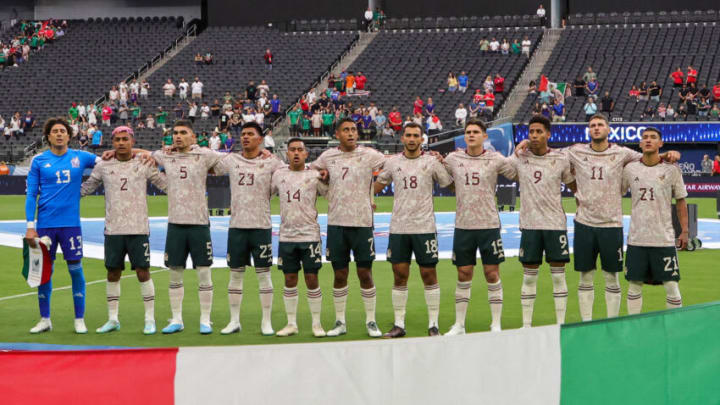 Team Mexico poses for a team photo before a Nations League match in June. (Photo by Ethan Miller/Getty Images) /
Alex Lora on stage at Arena Ciudad de México on Oct. 20, 2013, during a concert celebrating the 45th anniversary of his band, El Tri. (Photo by Victor Chavez/WireImage) /
Alex Lora, Charley Hauptvogel and "El Zita" Flores might not be confused with the attacking trident of Santi Giménez, "Chucky" Lozano and César Huerta but they can officially call themselves El Tri.
Making headlines this week, rock-and-roller Lora won a court battle confirming his commercial rights to the catchphrase and preventing the Televisa network from marketing the Mexican national team as "El Tri."
Lora – the frontman of the popular 1980s Mexican rock group El Tri that featured Hauptvogel, Flores, et al – formally registered the name of his band back in 2014 and recently filed a complaint to halt Televisa's use of "his trademark" in any merchandise or official promotional materials.
Initial stories reported that Lora had filed suit against the Mexican Soccer Federation, but the FMF has never used "El Tri" in any official releases or statements. Be that as it may, the FMF is also prohibited from marketing the term or using "El Tri" commercially.
Meanwhile, back on the field with … um … El Tri youth teams
Mexico's Under-17 and Under-23 squads are participating in training camps as they prepare for official competitions in the coming months.
The U-17 team will be in Indonesia next month in an effort to win its third World Cup in the category (El Mini Tri won the 2005 World Cup in Peru and hoisted the trophy again in 2011 at Estadio Azteca).
Last month, Mexico learned it would face Germany (Nov. 12), Venezuela (Nov. 15) and New Zealand (Nov. 18). All three games will take place at Jalak Halupat Stadium in Bandung, Indonesia.
Coach Raúl Chabrand and the El Tri youth are presently in Argentina where they will play four matches to prepare for the World Cup. On Wednesday, Mexico lost 1-0 to Argentina's U-17 squad. The Argentines will also be in Indonesia (in Group D) so it was a good test.
El Mini Tri will also play Boca Juniors' U-17 team as well as similar squads from Club Tristán Suárez and Argentines Juniors before traveling to the South Pacific at the end of the month.
As for the U-23 team, coach Ricardo Cadena is preparing his young men to Chile (Oct. 23), the Dominican Republic (Oct. 26) and Uruguay (Oct. 29) at the 21st Pan American Games in Santiago, Chile.
Mexico's U-23 – led by León's Fidel Ambriz, Guadalajara's Jesús Brígida, Pachuca's Brayan González, Cruz Azul's Erik Lira and Tigres' Raymundo Fulgencio – will be trying to win a medal for the fifth consecutive Games.
Mexico has won Pan Am gold four times (1967, 1975, 1999 and 2011). El Tri has also won four silver medals (1955, 1991, 1995 and 2015) and three bronze medals (2003, 2007 and 2019).